Our idea:
1. Buy a used lorry or 4×4 pickup from the donated money
2. Put the vehicle in good working condition so it is safe and will work for a long time in Ukraine
3. Fill the vehicle with equipment and supplies needed in Ukraine
4. Drive the vehicle to Ukraine and donate it and the cargo to Ukraine's defence forces
5. Return home by train, plane or private transfer
6. Repeat steps 1 to 5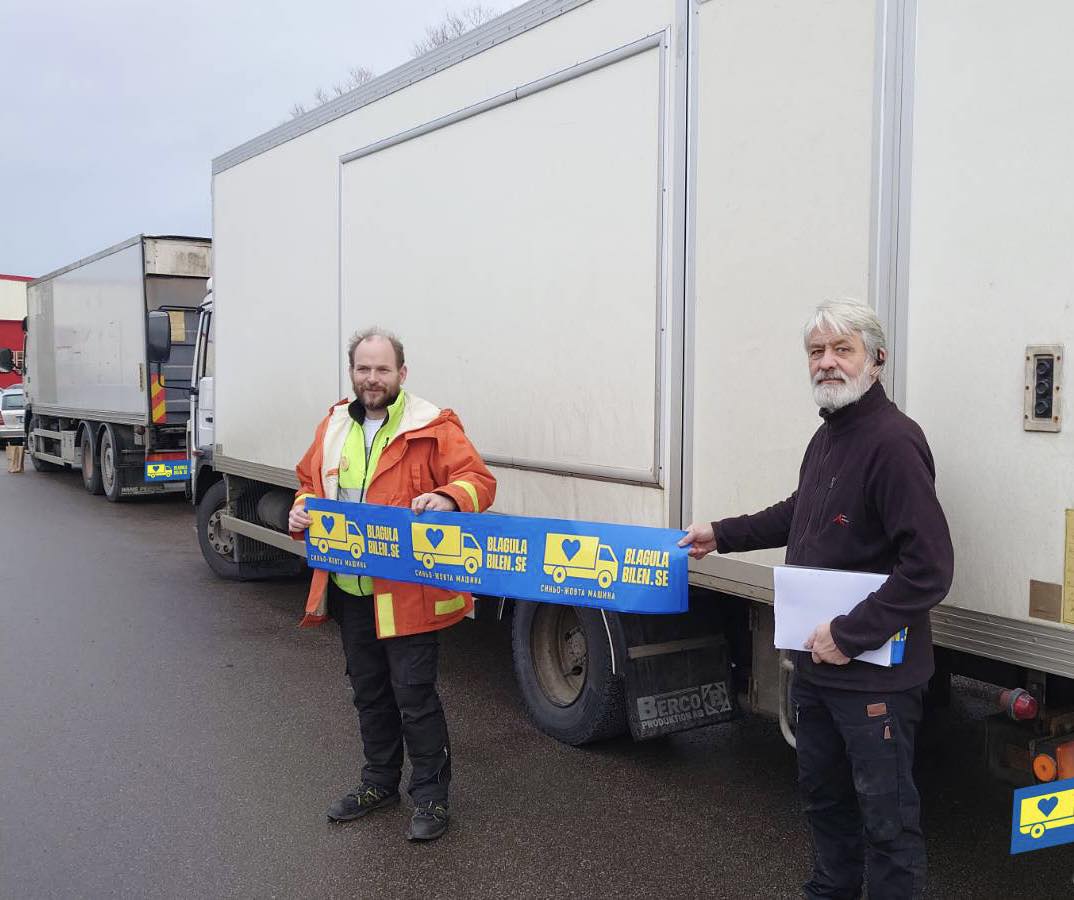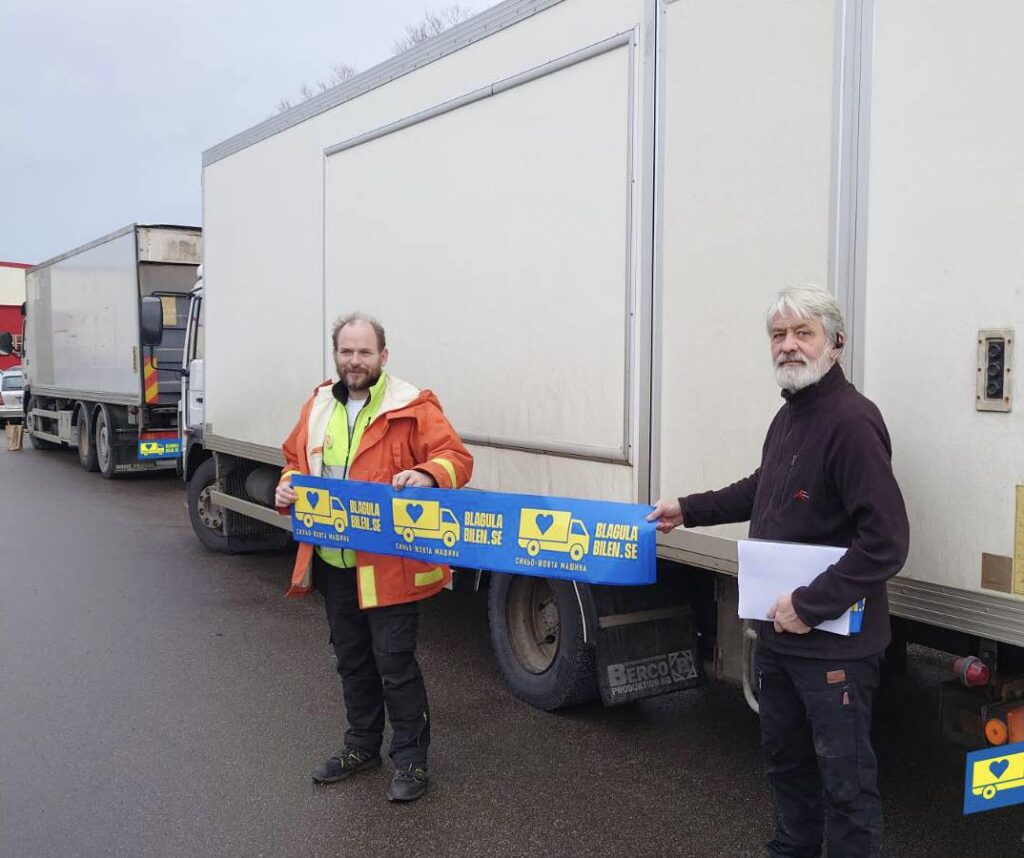 The founder of Blågula Bilen, Take Aanstoot, had an old truck standing around that was not being used. He decided to fix it, drive it to Ukraine and donate it. He asked friends and acquaintances on Facebook for help with free or low-cost repairs to the truck, as well as equipment donations to fill the lorry. It was the first vehicle of many and the start of the Blue Car.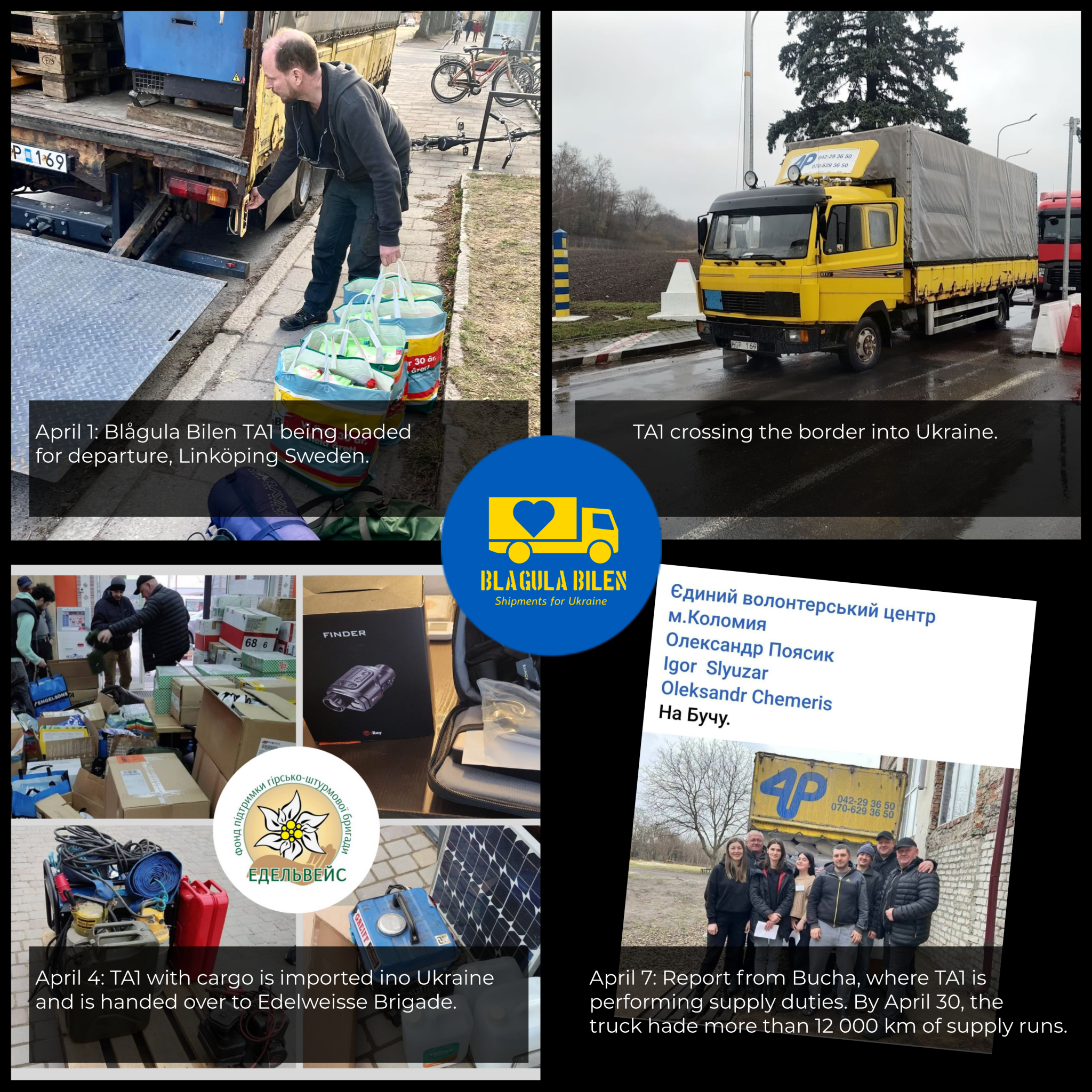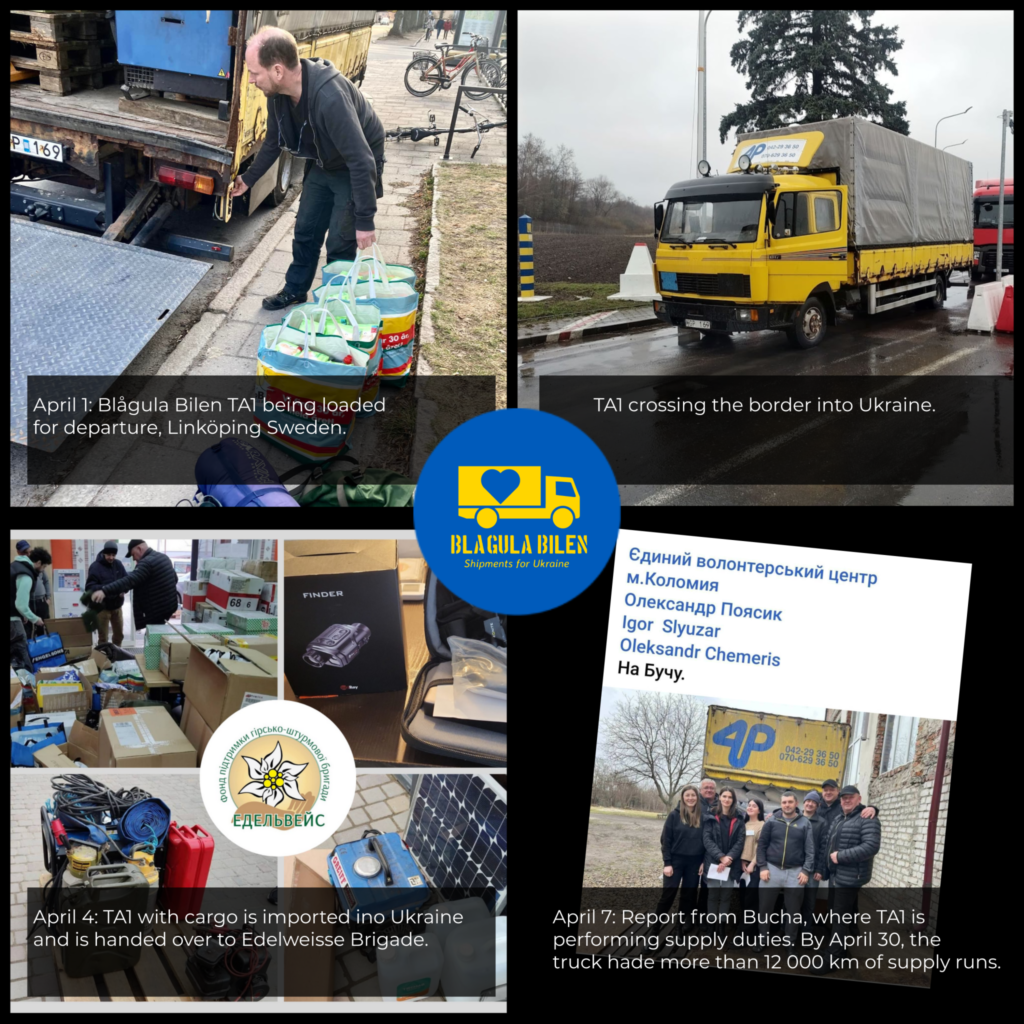 Lorry no. 1
The network managed to find solutions to all the challenges, the lorry was filled with donated and newly purchased equipment, and on 1 April, Blågula Bilen TA1 left Linköping. Through the Ukrainian Association of Östergötland, Take had established contact with the 10th Ukrainian Mountain Brigade (known as the Edelweiss Brigade). The lorry was handed over to Edelweiss on 4 April, which could have been the end of the story.
Edelweiss told us that trucks are in such short supply in Ukraine that it is often a lack of trucks that is the bottleneck in distributing ammunition and equipment to soldiers. The same issue is in supplying food, medicine, and supplies to the civilian population in the affected areas.
More trucks
Back from Ukraine, and with a taste for this, three more trucks were purchased! TA2, TA3 and TA4.
Several of us wanted to work on this voluntarily, and the "Blågula Bilen" organisation was formed. We had now established a network of contacts for the repair of the trucks. We had also received donations of truck tyres and spare parts from automotive suppliers in the local area.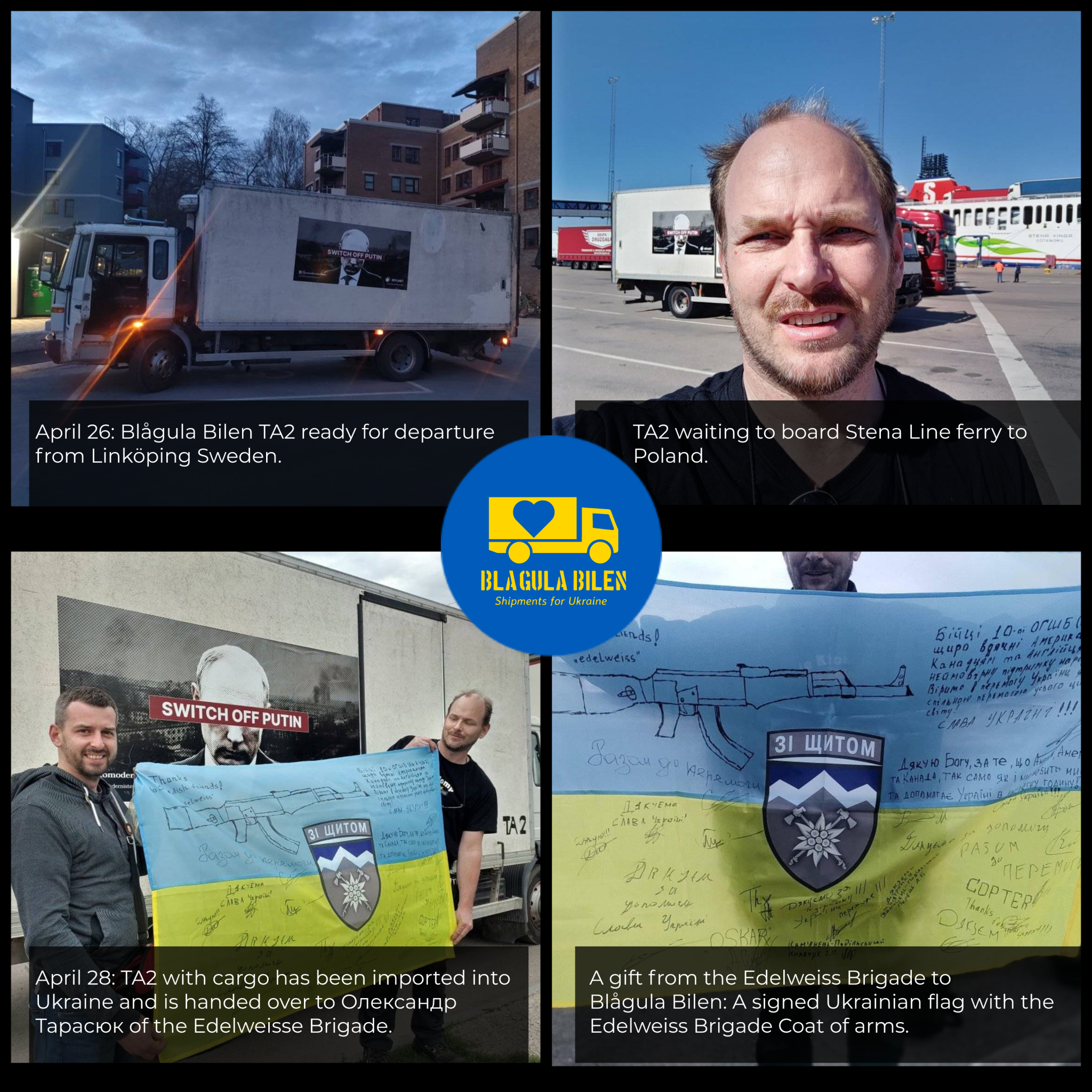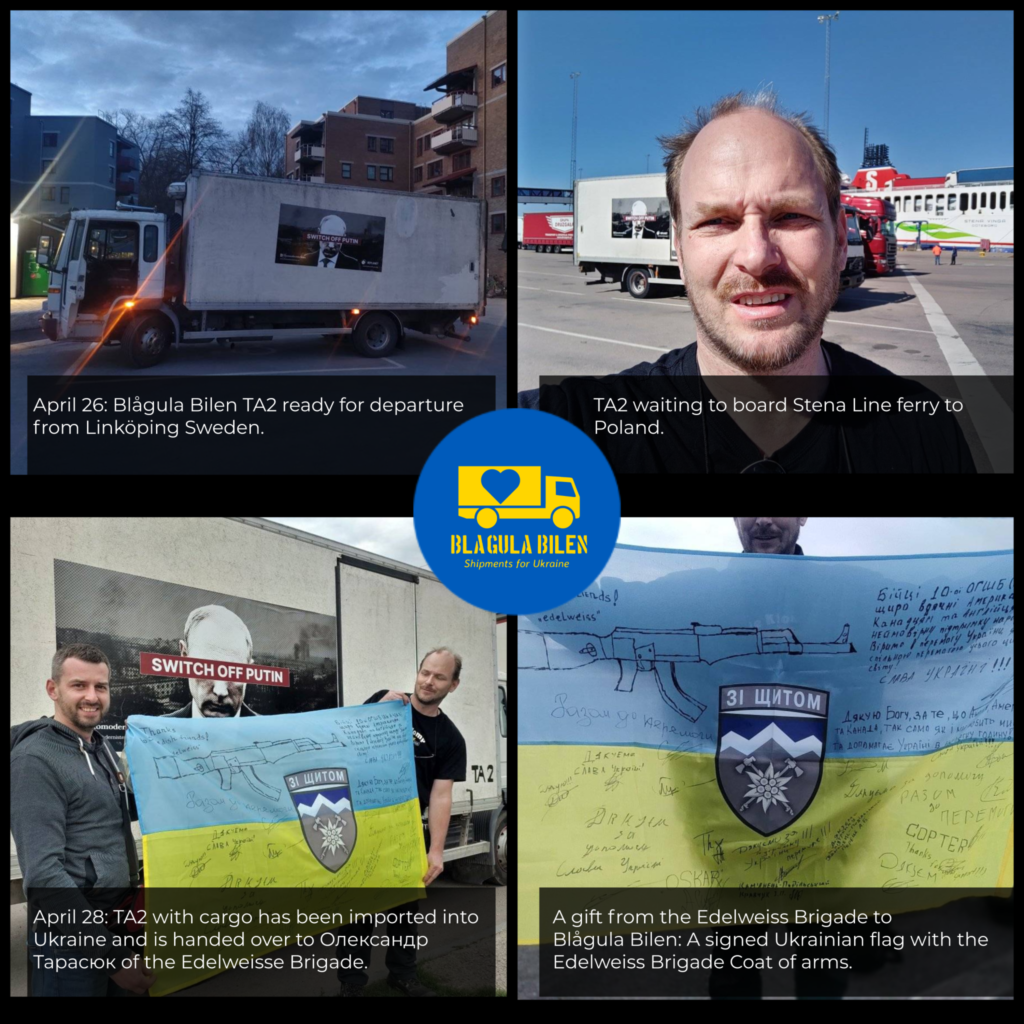 Partners
"Ukrainian Association Östergötland"
A non-profit association is working with the collection and distribution of supplies in Ukraine and Sweden. Through the Ukrainian Association, we have dialogue with Ukrainians in Sweden, various actors inside Ukraine, and the Ukrainian Embassy in Sweden.
"Bilar och dieselaggregat till Ukraina "
An organisation that, like Blågula Bilen, buys vehicles that are donated to Ukraine and collect needed equipment. We help each other with the logistics in Sweden and regarding the transport to Ukraine.
"Ukraine Aid Operations"
Mainly based in the USA but also has resources in Poland, Estonia, Latvia and Lithuania. UAO focuses on soldiers' protective equipment and provides light vehicles such as jeeps and SUVs.
"OperationAid"
We conduct co-supplies and joint collections and assist each other with logistics, administration and resources in Sweden and Ukraine.
We also cooperate with other private promoters who work with collecting and transporting equipment and supplies. The cooperation consists of joint planning, shared transport, and communication within Sweden and with partners in Sweden, Poland and Ukraine.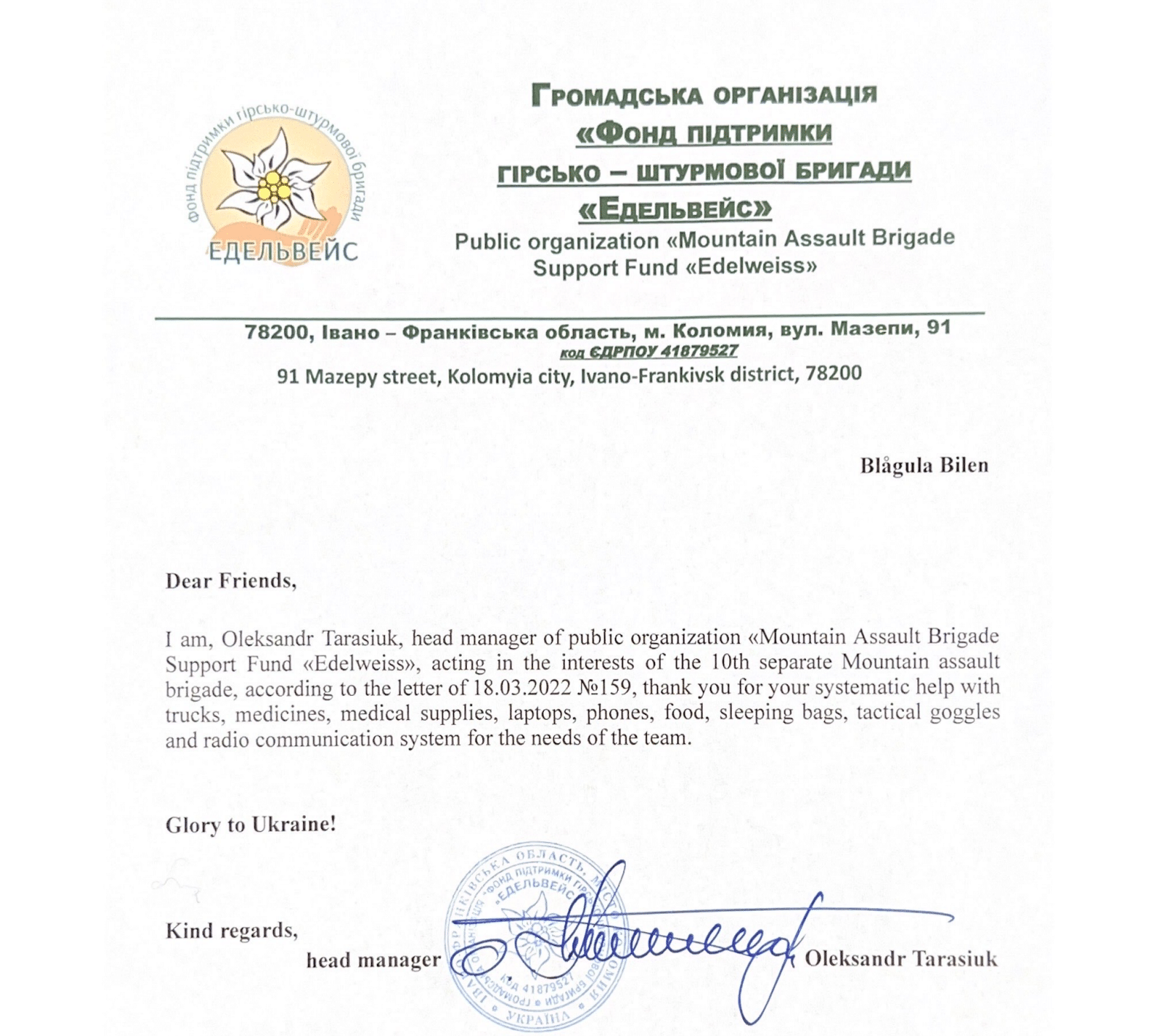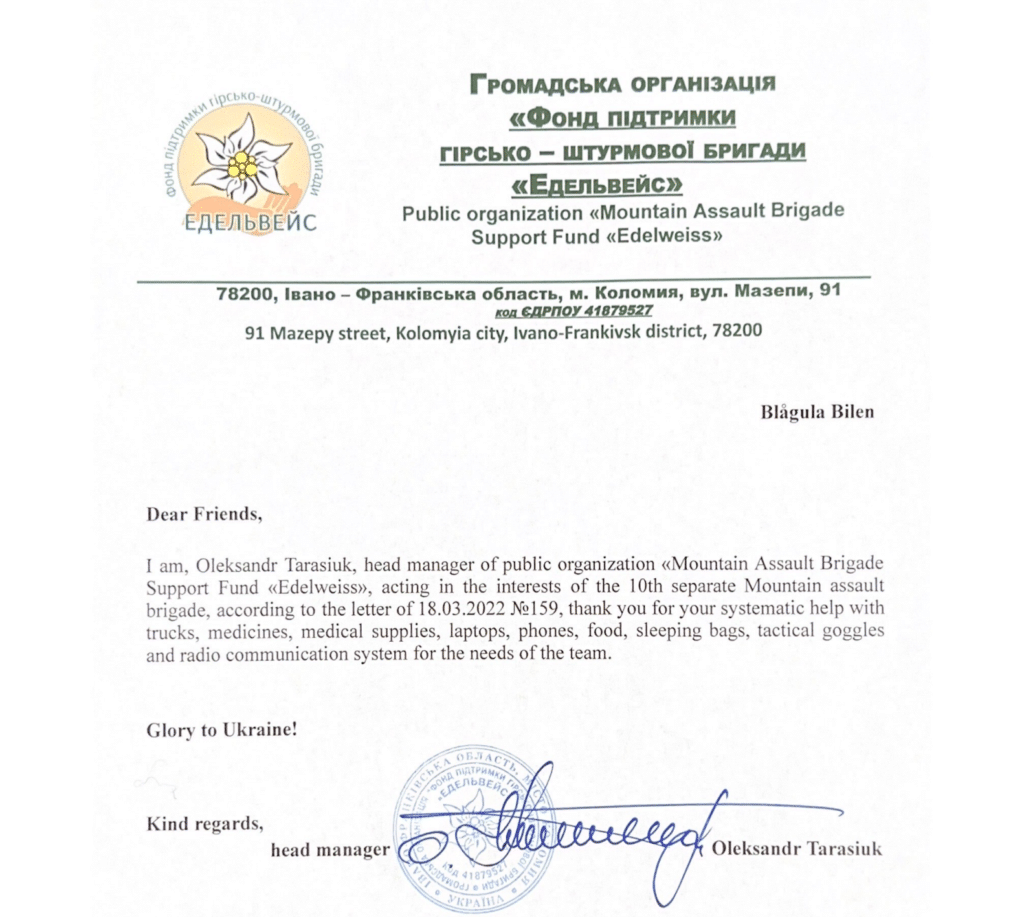 Help us spread the word!
Please download our flyer, print it and put it on the coffee table at work.